Winter Special – Toddler's Tea
This blog is a part of the Chai-a-thon blog train organized by 'The Momsteins'
I would like to thank Mamatha  from  all about mommying for introducing me.
Chai Chai!! Chai Chai!!
This is the way Mr.K murmurs when he sees the chai (tea) water boiling up. The entire family loves tea and can't do without tea. This excitement for tea is passed to my toddler too ?.
Though I am not against tea in anyway but I'm against the sugar in the tea. But this guy wants to dip his ragi/bajri rotis in the tea and have it for breakfast. Blame daddy who made him taste sugar tea.
So to do away with this I came up with an idea and make masala chai for him. Which is absolutely healthy and good for these winters.
Recipe for Toddler's Tea/Masala Chai
Ingredients:
3/4 Tulsi leaves
3/4 Mint leaves
1/2 strands Lemongrass
Quarter spoon of grated Ginger
1 Clove (lavang)
1 pod cardomom (elaichi)
1 small Bay leaf (tej)
2 spoons of Date paste
Half cup Soy milk/almond milk
Method:
Mix all the ingredients with water and boil it until the water becomes half.
Add milk and boil it until the milk comes up .
And tadda the chai is ready. The colour of the tea is just like normal tea and K loves it.
Even adults can have this tea. It keeps away cold, cough and increases immunity.
I would also recommend you to check out my fellow blogger, and friend preetjyot's blog  My little Muffin and read about her wonderful ' tea memory '.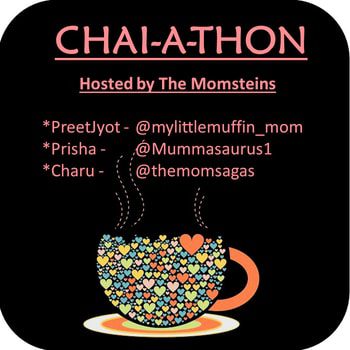 Hosted By :